DPMS Oracle AR-15 Rifles for Sale - Cheap Shipping and No Hidden Fees!
The DPMS Oracle is a budget modern sporting rifle. Simply put, the DPMS Oracle is one of the best quality, low cost modern sporting rifles on the market today. DPMS (Defense Procurement Manufacturing Services) Panther Arms manufactures a wide range of military and civilian rifles in Huntsville, Alabama.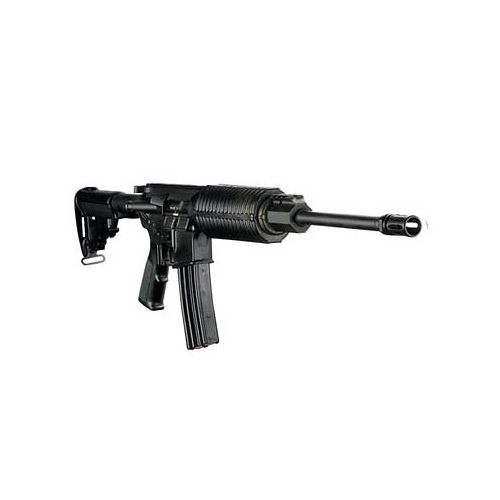 DPMS ORACLE REVIEW VIDEO
DPMS ORACLE BEST SELLERS
SEE ALL DPMS Oracle Rifles
DPMS ORACLE RIFLE FEATURES
This is the perfect platform to build your dream AR. You get a bare-bones rifle out of the box, so you can mount your choice of sights or optics (sold separately).
Available in 308 and 223/556 calibers, the DPMS Oracle is an optics-ready rifle you can customize and accessorize to your heart's desire or your budget's limit; whichever comes first.
The 223 comes with a standard 30 round magazine, or a 10 round for California, and the 308 Oracle comes with a 19 round magazine.
A flash suppressor comes mounted to the chrome-moly steel barrel, which is tough enough to shoot military high pressure rounds.
Aluminum receivers keeps the weight down, and it comes with a match-grade trigger.
Upgrade your DPMS Oracle over time with your choice of handguard, rails, grips, lights, lasers, range finders, or an anodized charging handle in your choice of colors.
DPMS 308 ORACLE
This is the DPMS Oracle that works out at the gym every day. The 308 also has a 16 inch barrel, but weighs in at 8 pounds. It comes with a standard 19 round magazine, but 4 round and 10 round magazines are also available. The chrome-moly steel barrel handles the high pressure 7.62 NATO ammo giving you an accurate rifle.
DPMS 308 ORACLE REVIEW
This is a great platform to start a custom build. Lock up, fit and finish are good, while the other observations about the stock and forearm are accurate. I customized mine with veriforce tactical keymod & mil-spec buffer tube w/spring and buffer, ergo grips, magpul stocks and magazines, BCM keymod rails, PSA enhanced triggers, among other items. The result: A complete makeover of the LR-308 into a true custom platform of top quality…REVIEW BY SCOTT
See Discount Price and More Info: DPMS 308 Oracle
DPMS ORACLE 223
This lightweight optics ready carbine features a mil-std A3 upper receiver, lightweight barrel and Pardus stock for user comfort and advanced capability. All of this and plenty more, at a price set for any budget. Unlike some cheap ARs, the DPMS Oracle can handle both 223 and 556 NATO rounds. The Shooter Review had this to say about the DPMS Oracle:
"Out of the box you are looking at a bare bones AR15, zero frills aside from the proprietary Glacier Grip hand guard that DPMS developed and an adjustable stock. At the tip of the barrel you will find a standard A2 birdcage flash suppressor, a proven design used on an overwhelming amount of AR rifles. Moving on down the the barrel, DPMS used a lightweight 16 inch chromemoly barrel firing a 5.56 NATO round. Some AR's will fire only a .223 as the barrel cannot withstand the increased pressures resulting from the 5.56, this is not one of those rifles. The gas block is railed making it optics ready, although lacking a front sight out of the box."
DPMS ORACLE REVIEW BY GEORGE S
AWESOME, ACCURATE & WELL BUILT !! I purchased my Panther Oracle about three months ago and have about 500 rounds through it so far. It is well built, solid and amazingly accurate. The trigger is smoother than I had anticipated not that I'm complaining. She has taken every kind of ammo I've feed her so far and not one FTF/Stove pipe, jam etc. This Rifle ROCKS!
DPMS ORACLE 223 SPECS
Model: Oracle RFA3-OC
Caliber: .223 Rem (5.56 NATO)
Capacity: 30+1
Barrel Length: 16"
Overall Length: 32.5" – 36.5"
Weight: 6.4 lbs.
Finish: Matte Black, Hard-Coat Anodized
Price and More Info on the DPMS Oracle 223.
DPMS Oracle - The Last Word
The DPMS delivers hard hitting firepower in a highly configurable, and affordable, AR platform that will grow with you. Sean Guthrie of The Shooter Review said, "I would recommend the DPMS Oracle 5.56 to anyone new the the AR scene as well as those who are looking for a bare bones rifle. It is a reliable weapon, fun to shoot, and as with the rest of the AR platform, easily modified to suit your needs."

Sources: https://www.theshooterreview.com/dpms-panther-arms-oracle-556/2015/12/25/uh0navtha0n2v65tu5iwmoce43yoyo-dx6la, https://en.wikipedia.org/wiki/DPMS_Panther_Arms