Wilson Combat
Evolving, Innovative, and Trusted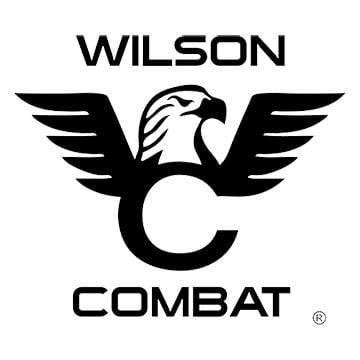 History of Wilson Combat
Wilson Combat was founded in 1974 by Bill Wilson, starting as a retail store called Sportsman's Headquarters in Berryville, Arkansas. Today, Wilson Combat is one of the largest and most successful custom firearms companies in America. A Wilson Combat product has an unmatched level of exceptional reliability and craftsmanship–all of which is only equaled by their best-in-class customer service.
Wilson Combat has over 40 years of experience in manufacturing the 1911 handgun. Their custom pistols are always evolving to take advantage of the latest advancements in firearm technology. These guns are 100% American-made down to the small components in the custom firearms. All Wilson Combat custom 1911 handguns go through rigorous quality control and testing to forge the best handguns. Everything they do is done with quality in mind.
Wilson Combat Guns For Sale
For the best 1911 handgun deals or a modern sporting rifle for sale, Wilson Combat is the best name to rely on. To find what you need, check out the Wilson Combat selection on the GrabAGun site today!
Wilson Combat 1911
EDC X9
If you need an everyday carry handgun, the Wilson Combat EDC X9 is perfect. This 1911, with match-grade accuracy, was made with EDC in mind. It's a hybrid of Wilson's EDC 9 1911 slide assembly with a high-capacity X-frame, hence the name. The slide assembly features an Enhanced Reliability System, ERS, which is tailored to the varying power level of 9mm ammunition and maintains impressive reliability in all conditions. Other features on the Wilson Combat EDC X9 9mm 4" Barrel 15-Rounds With Fiber Optic Sight include a Tri-Top slide profile with user-replaceable front sights, rear tactical adjustable battle sights, single lug tapered cone match-grade barrel, and a high capacity magazine with a grip that is smaller in circumference than a standard 1911. All the while, this model still maintains traditional 1911 controls so you won't have to relearn anything. It also features a user-serviceable external extractor. It uses a hammer spring tension to keep the aggressive traction Wilson/VZ G-10 starburst pattern grips securely in place. The screwless X-frame, machined from T6-7075 aluminum, also features a small backstrap and medium trigger pad. The front and back straps are machined with the Wilson Combat X-Tac tread pattern which provides a tactile but non-abrasive grip. Find the 1911 handgun you need at the price you want through GrabAGun today!
EDC 9
The latest evolution in the 1911 category is the Wilson Combat EDC pistol. Enhanced for hard use and everyday carry, this handgun is built to perform in any given situation. Featuring a screwless X-frame and EDC 9 slide assembly, the Wilson Combat Everyday Carry Railed Black 9mm 4-inch 15Rds will get you through anything. On it, you'll find match-grade accuracy, superior ergonomics, and more. The slide is equipped with user-replaceable front sights as well as rear tactical adjustable battle sights. Internally, there is a hammer spring tension to keep the aggressive traction while the Wilson/VZ G-10 starburst pattern grips securely in place. A small backstrap and medium trigger pad allow for the most comfortable experience every time. Two 15-round magazines chambered in 9mm are included with this so you'll never run out of rounds.
CQB Elite
For a no-nonsense, full-sized firearm look no further than the Wilson Combat CQB Elite. CQB stands for "Close Quarters Battle" which this handgun was specifically designed for. It blows away the competition with a standard package of custom features meant to meet the needs of tactical shooting professionals and civilians alike. What comes standard on this 1911? Everything starts with Bullet Proof parts inside and out as well as a stainless steel frame with a carbon steel slide. Add in a beavertail grip/thumb safety, G10 diagonal flat-bottom grips, and rear battle sights with fiber optic fronts and you've got a pistol that can't be matched. Fun fact, the slide actually features top slide serrations with serrated rear and front cocking serrations for easy pulls in any situation. For a reliable .45 ACP handgun for sale, GrabAGun has you covered.
Wilson Combat Semi-Auto Handguns
P320
Probably one of the coolest collaborations of all time is the Wilson Combat/Sig Sauer P320. This enhanced 9mm pistol is a truly spectacular display of form, function, and power. It comes equipped with the Wilson Combat Sig P320 grip module, Wilson's in-house re-machined slide, and the Wilson Combat performance battle sights. The Wilson Combat P320 Pistol Black / Stainless 9mm 4.7" Barrel 17-Rounds Straight Trigger is perfect for your everyday carry needs. The stainless steel slide and Chromoly barrel wear the most advanced black DLC (Diamond-Like-Carbon) physical vapor deposition finish for an exterior that is beautiful and durable. It features a Sig Sauer flat-faced XFULL trigger giving shooters a lower finger position on the trigger thus increasing leverage for a lighter, smoother trigger pull. Available with two 17-round magazines, you'll always be ready.
ACP
The Wilson ACP or American Combat Pistol is built with Wilson's highest quality parts in the same time-tested way their other custom 1911 handguns are made. What's different about this series of handguns is that they are made with reduced customer-selected options which streamlines production and enables a lower price at the user end. It's available in .45 ACP and 9mm calibers and features the latest generation forged slide, frame and barrels that are hand-fitted by skilled pistolsmiths, and Bullet Proof parts for a truly reliable firearm. Also included is the new Eagle Claw grip and slide surface to set it apart from the rest of the pack. The Eagle Claw pattern offers a non-abrasive, tactile grip under adverse conditions while still being easy on your hands and clothing. The unique look and feel of the Eagle Claw is like nothing else out there. Get it full size with a 5-inch barrel or a 4.25-inch barrel or compact with a 4-inch barrel. Carry with confidence when you get a Wilson Combat handgun deal through GrabAGun.
SFX9
The Wilson Combat SFX9 is a performance-driven compact pistol designed specifically with everyday needs in mind. The new SF (solid frame) is lightweight, full-sized, and machined from durable aluminum. It also features a comfortable and reliable grip frame design. That enhanced grip shape significantly enhances recoil control during rapid-fire and extended range sessions. Light enough to carry for long durations while still maintaining rugged reliability, the SFX9 is an everyday carry firearm that you'll never want to be without.
Wilson Combat Modern Sporting Rifles
Protector Carbine
When you need a reliable carbine to take to the range, trust the Wison Combat Protector Carbine. Featuring a Mil-Spec forged upper and lower receiver, this is built to last. The match-grade stainless steel barrel comes with a Q-Comp flash hider, perfect for a day at the range. Internally, there is a pistol-length gas system for enhanced reliability and durability with a low-profile gas block. Surrounding the barrel is an M-LOK compatible hand-guard with 4 accessory rail and QD sling mounts and a nitride coated precision BCG. Additionally, there's a two-stage TTU trigger and a Rogers super-stoc buttstock with BCM Starburst pistol grip. Make your next range trip fun with a Wilson Combat Protector Carbine from GrabAGun.
UT-15A
One of the best all-around tactical and sporting semi-auto carbines is the Wilson Combat UT-15A. UT stands for "urban tactical" and this offers precise accuracy and fast handling versatility in a lightweight package. This carbine features Wilson's unequaled quality, relentless reliability, and superior service. Everything starts with precision CNC machined upper and lower receivers using high-quality 7075-T6 aluminum forgings. The upper utilizes a flat-top receiver and a 16.25-inch free-floated, fluted, match-grade barrel. All uppers and lowers are hand-matched by a master riflesmith. It also comes equipped with a 6-point collapsible stock, a single-stage trigger, and a 20-round magazine chambered in .223 Remington/5.56 NATO.
Combat Recon
The Wilson Combat Recon is an incredible AR pattern service rifle. It offers superior downrange lethality with minimal loss of magazine capacity and a negligible increase in recoil. When built to the level of quality and precision Wilson Combat has achieved, the Combat Recon is capable of outstanding accuracy and reliability. It features a match-grade, 16-inch Spec II barrel that's capable of pushing a .277 caliber, 85-grain bullet to over 2900 FPS. That ballistic performance alone makes the Combat Recon perfect for home protection and SRT/SWAT teams. What makes it even better is the fact that it can handle medium to heavy game loads. So, take it to the range, keep it at home for home defense, or use it in a professional capacity. Either way, the 30-round magazine will be reliable in any situation. Wilson Combat modern sporting rifles for sale can be found at GrabAGun for incredible deals. Check out the site now!
Tactical Hunter
The Wilson Combat HAM'R is the ideal large-bore AR for hunting or general tactical and defensive use. It features a threaded, match-grade 18-inch, button-rifled barrel that is tuned for suppressed or non-suppressed shooting. An adjustable buttstock gives you the ability to adapt the hun's size to various size shooters or for storage. A Picatinny runs the length of the upper receiver allowing for a variety of optic mounts. The new Wilson Combat M-LOK rail is lightweight but rugged and designed for heavy use.
Wilson Combat Uppers
Several want to build their own AR15 rifles or pistols. For that, you need the Wilson Combat Upper Receivers. These are some of the best accessories on the market–and for the best prices no less! If you're unsure of where to start, try the Wilson Combat Forged Upper Receiver. This is an M4 Mil-Spec, flat-top upper receiver that is precision CNC machined from 7075-T6 aluminum. Forged for maximum durability, this features a Mil-Spec Type 3 hard coat anodized in rugged black. It comes unmarked for a clean, custom look. Another great option is the Wilson Combat AR Style Billet Upper Receiver. This is a reliable and durable start to any update or build. It's 100% machined in the USA and was engineered from the ground up to address any structural design weaknesses in the USGI receivers. It features a precise bolt raceway for smoother chambering and more rigid walls to reduce firing flex. CNC machined from 7075-T6 aerospace aluminum, this also features a top Picatinny rail, M4-style extended feed ramps, and a smooth side profile without a forward assist for maximum accuracy potential. If you're looking to add a quality upper to your collection, any Wilson Combat upper receiver for sale will do the trick! Check out the selection from GrabAGun.
Upgrade your Combat Recon rifle with the Wilson Combat Upper. Featuring a hand-polished 416 stainless steel barrel, you'll experience unmatched accuracy and power. It's the perfect companion for any hunting, duty, or tactical competition. Additional features include the versatile free-floating TRIM rail system and the NP3 bolt carrier assembly. All in all, this is a great value both in terms of price and performance. The Wilson Combat High-Performance AR Upper Receiver use the same top-tier components, skilled gunsmith assembly, and final finishing as the complete Wilson Combat custom AR rifles. Featuring a machined, hand-polished, match-grade stainless barrel at the core of the receiver ensures that any matching lower will be equipped for hunting, duty, or tactical competitions. Each Wilson Combat High-Performance upper is test-fired and finished in the Armor-Tuff coating. It's certified to drop in and function with any Mil-Spec, AR lower unit. Made from forged 7075-T6 aluminum and chambered in .223 Wylde, this is an upper receiver that you won't want to skip.
Wilson Combat Lowers
Once you've got the perfect upper receiver for your AR build, you need a lower. Wilson Combat Lowers are the ultimate foundation for any build. For example the Wilson Combat AR-15 Mil-Spec Receiver. This is a Billet Mil-Spec lower receiver that features 7075-T6 forgings machined to Mil-Spec Plus tolerances. It comes standard with a Mil-Spec Type 3 hard anodized black finish. A great match for this would be the Wilson Billet-AR upper receiver and any standard AR barrel. The Wilson Combat WC-10 Matched Set is another great option. It features a precise bolt raceway for smoother chambering and more rigid receiver walls to reduce firing flex. Enhanced with an oversized magazine well for smoother reloads and an integral trigger guard for gloved use. Features include a Picatinny top rail, shell deflector, M4-style extended feed ramps, undersized bolt raceway, enhanced recoil dynamics, and a smooth side profile without forward assist. And of course, there's the Wilson Combat AR-Style Matched Set. Capable of cycling multiple calibers, this lower is hand-selected to ensure a proper fit between upper and lower halves. It accepts all aftermarket and Mil-Spec internal parts. You'll find that it is marked with "Multi" rather than a "T" because it's not a custom look. Features include a GI style upper and lower machined from 7075-T6 aluminum USA-sourced forgings and M4-style feed ramps for flawless feeding.
Wilson Combat Magazines & Accessories
If you're headed to the range, make sure that you have plenty of magazines on hand. Wilson Combat OEM magazines are the way to go, like the Wilson Combat 1911 Magazine Black .45 ACP 10Rds. Wilson Combat guarantees their magazines are so inherently reliable they'll make any 1911 pistol function every time. This magazine features an aircraft-grade certified stainless steel tube as well as the thickest walls in the industry which are heated treated for maximum durability. A removable polymer base adds grip length for enhanced shooting and rapid reloading. Have a 9mm handgun? Not a problem! The Wilson Combat ETM 1911 Magazine Stainless 9mm 10Rds and the Wilson Combat EDC X9 Magazine 18Rd 9mm are two great options. They feature the same rugged and reliable structure that Wilson is known for. You'll never have to worry about missing out on rounds or reliability with a Wilson magazine in your kit.
Wilson also makes dependable shotgun and AR magazines that you'll want to snag as well. The Wilson Combat Remington 870/1100/11-87 Extension Tube Black 12ga 2Rds is a great place to start. This two-shot tactical extension tube fits 12 gauge Remington models M870, 1100, and 1187 to increase magazine capacity to 6-rounds. There's an extra-power magazine spring for improved reliability and a high-visibility follower for visual reference of the empty magazine tube. It does come with a wave washer and has a Parkerized finish. If you need an extra AR magazine, then Wilson has you covered. The Wilson Combat Magazine for AR15 30 Rounds 5.56 & .300 BLK is a fantastic choice. Compatible with all AR-platform rifles, this magazine has proven reliability with a highly durable fiber-reinforced polymer frame and enhanced grip. It features an OD green, high-visibility, anti-tilt universal follower as well as an easily removable floorplate with openings for dirt, water, and debris removal. All in all, it's a tried and true magazine perfect for any day on the range. Get the magazine you need, and more, from GrabAGun today!