Auto-Ordnance
Over 100 Years of Excellence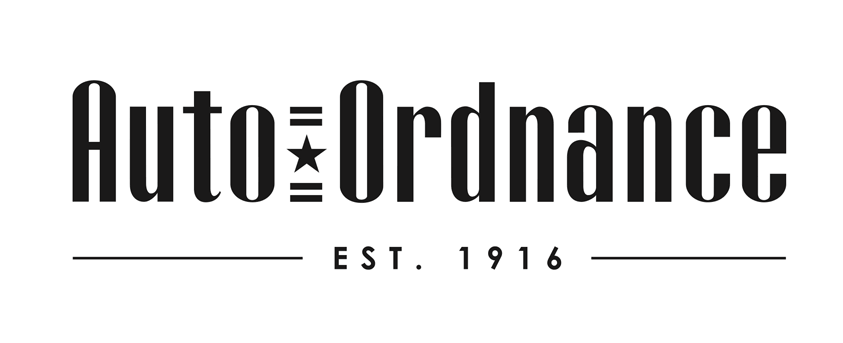 History of Auto-Ordnance
Anyone who has watched an old movie or browsed through a book on World War II will quickly recognize the familiar outline of the Thompson submachine gun, better known as the "Tommy Gun". This famous gun was made by John Taliaferro Thompson, a distinguished and retired Brigadier General of the U.S. Army Ordnance Department. Thompson began his research in 1915 to find an automatic weapon he could supply the American military. Having served in the Army's ordnance supplies and logistics during World War I, General Thompson understood that greater firepower was needed to end a war. Thompson was driven to create a lightweight, fully automatic firearm that would be effective against the contemporary machine gun. The first shipment of Thompson prototypes arrived on the dock in New York for shipment to Europe on November 11, 1918, the day that the war ended.
In 1919, Thompson directed the newly-formed Auto-Ordnance to modify the gun for nonmilitary use. The gun, classified as a "submachine gun", was officially named the "Thompson submachine gun" to honor the man most responsible for its creation. With military and police sales low, Auto-Ordnance sold its submachine guns through every legal outlet it could. While they were selling the Thompson submachine gun on the open market in the 20s, Thompson was uncomfortably aware of what the guns could do if in the wrong hands. To his distress, the submachine gun turned out to be the weapon chosen by gangsters. The "Tommy Gun" literally made the 20s roar. Possessing tremendous firepower, the Thompson submachine gun was an effective weapon used by gangsters like Al Capone, John Dillinger, and Baby Face Nelson.
It was also in the mid 20s that the Thompson submachine gun was adopted for service by the U.S. Coast Guard on patrol boats. By 1928, Auto-Ordnance made a new Navy model to be used by Marines on Naval gunboats. When World War II began, the Army recognized the need for the submachine gun, thus the Model 1928 was born. The lock, actuator, breech oiler, buttstock catch, compensator, and barrel fins were eliminated to simplify the mass production.
Even today many veterans consider it the best weapon of WWII. As for General Thompson, he would never see the overwhelming success of his gun as a military weapon. He died in 1940 at the age of 80 years, but he left his mark on the history of military weapons. Once Kahr Arms took over the Auto-Ordnance Corporation, they worked hard to preserve the "Tommy Gun" legacy through the making of their classic Thompson firearms.
Auto-Ordnance Guns For Sale
Auto-Ordnance has many rifles and handguns that will take you back through time. Look through our collection of the best Thompson guns such as the M1, 1927 A-1, and the 1911 A-1. Get a Thompson for sale at GrabAGun. We have competitive prices and unmatched customer service!
Thompson M1
The Auto-Ordnance Thompson M1 Carbine is produced using newly manufactured parts on high precision computerized machinery. This gun is equipped with an 18-inch barrel and comes with either a 10 or 15-round magazine, depending on your state laws. The Thompson is finished with a classy American walnut stock and handguard with a parkerized receiver. With a flip-style rear sight, flat bolt, and a barrel band, this gun has features that could be very beneficial to your everyday sporting activities. Models are designed with individual markings behind the rear sight that says "Auto-Ordnance, Worcester, MA" and "U.S. Carbine, Cal. 30 M1" along the receiver. This showcases where the gun is made, the model of the gun, and the serial number for identification.
If you're looking for a unique look to your Thompson, check out the Auto-Ordnance Thompson M1 Carbine Paratrooper. The Paratrooper is a semi-automatic with adjustable sights, metal folding stock, and walnut handguard. This 30 Carbine has an 18-inch barrel and a 15-round magazine. It also comes with the pistol grip, swing-out wire stock and butt plate, and sling swivel slot. Designed with markings behind the rear sight and the left side of the receiver, this unique rifle design is everything you need for your Thompson collection. Get your Thompson M1 rifle from GrabAGun today!
The Thompson M1 Tanker was used victoriously in battles throughout the world, inscribing its place for all time as a legend among military firearms. The M1 Carbine "Tanker Thompson" is dedicated to the memory of the brave American soldiers who faced the enemy in steel chariots like the M4 Sherman Tank. Each "Tanker Thompson" is cerakoted in Army O.D. Green and the white star of the Sherman Tank is engraved just in front of the magwell. The U.S. logo is engraved on the buttstock. The gun comes equipped with two magazines, one (1) 20-round and one (1) 30-round, a 16.5-inch barrel, a Kerr sling, and a WWII triple magazine pouch carrier. Auto-Ordnance is proud to honor America's armored warriors with this commemorative Thompson. GrabAGun has the best "Tanker Thompson" sporting rifles for sale so pick up yours now!
The Auto-Ordnance Thompson M1 Iwo Jima Commemorative rifle honors those who fought at Iwo Jima with engravings of images on both sides of the forearm commemorating the battle. The receiver is engraved with "Operation Detachment" on the left and "Iwo Jima" along with the dates of the battle on the right. The buttstock has battle scenes on each side, with WWII on the right, and the flag-raising on Mount Suribachi on the left. Finished in OD Green and distressed Copper Cerakote, this gun comes chambered in .45 ACP with a 16.5-inch barrel and includes both 20 and 30-round magazines, a magazine pouch, and a blade front sight. Both sides of the wood grip are marked with U.S. Admiral Nimitz's famous quote, "Among the men who fought on Iwo Jima, uncommon valor was a common virtue". This gun is a beautiful commemorative piece to add to your WWII collection.
Thompson 1927A-1
The Thompson 1927A-1 Deluxe is a semi-automatic carbine version of the infamous "Tommy Gun" that made the 20s roar. This .45 caliber carbine is equipped with a 16.5-inch finned barrel, compensator, and a solid milled steel receiver. It is available with the classic blue steel receiver or a more modern and lighter-weight aluminum receiver. With all of the classic details of the time-honored original, this Thompson comes with an American walnut stock and a blue finish. It is also equipped with adjustable rear sights and a vertical foregrip. It can be used with either the 50-round drum magazine or the 20-round stick magazine for a smaller fit. This historical gun even includes a violin case as a nod to the classic violin cases that have secretly held "Tommy Guns" over the years. Fill your 20s collection with this classic Thompson at GrabAGun for the best deals!
The Thompsons weren't just used by mobsters, but actually helped bring victory to battles fought throughout the world, confirming its place as a legend among military firearms. The Thompson 1927A-1 M1 Lightweight Carbine is a .45 caliber semi-automatic version of the world's first and most famous military rifle. The look and feel are authentic, right down to the side bolt action. The frame and receiver are milled from solid steel or aluminum, the wood is genuine American walnut, and the overall finish is either a blued steel or black anodized aluminum. This comes with adjustable sights, a 16.5-inch barrel, and a 30-round magazine. Featuring the same attention to craftsmanship as the highly regarded original, you won't regret picking one up for yourself.
Thought these rifles couldn't get any better? We're just getting started. In addition to everything else, there is also the 1927 A-1 Deluxe Pistol for a shorter length and unique design, but just as much power. This pistol is equipped with a single-action blowback design, walnut horizontal foregrip, and blade front open rear adjustable sights. This gun can accept multiple magazines such as the 10 or 30-round stick magazines or the 50 and 100-round drum magazines. With a weight of just over 5lbs and a 10.5-inch barrel length, this gun is a great option to take to the range or to use as a "truck gun". Shop GrabAGun's extensive collection of Thompsons to get more of these unique finds!
Thompson 1911 A-1
To celebrate the way the Roaring 20s blazed a trail for Thompson guns, Auto-Ordnance created the Thompson 1911 A-1 Bootlegger. Beautiful scrollwork covers the American Walnut wood furniture and sections of the steel on this commemorative 1911. It has a slide with "Bootlegger Prohibition Edition" and "Proof Tennessee Moonshine" engraved into it. The Bootlegger is finished in distressed Burnt Bronze Cerakote with a clear coating overlayed to protect the design. This 1911 offers great performance and accuracy in a durable and reliable frame. It comes chambered in .45 ACP with a 5-inch barrel and is equipped with engraved walnut grips. With an adjustable rear sight and a 7-round magazine, you really can't go wrong with this pistol.
Another commemorative weapon was created alongside the election of President Donald J. Trump, the United States' 45th president. With the invention of the 1911, the United States had its legendary .45 caliber pistol. It is only fitting that these two things should be combined in the Thompson 1911 A-1 45th President Trump Commemorative pistol. The "Make America Great Again" motto is engraved and styled on this iconic pistol. This is a limited production so get your Donald Trump 1911 handgun today at GrabAGun!
The sleek Thompson 1911 A-1 GI incorporates GI specs to keep the gun durable and reliable round after round. It comes chambered in .45 ACP with a 5-inch barrel. With a black oxide finish, this pistol has a wood grip for optimal steadiness. It includes a 7-round magazine and a steel frame measuring about 8.5-inches. This gun is single action with triple safety features and adjustable sights. With this versatile gun, you can be ready for action at any given moment.
Magazines & Accessories
An extra magazine of ammo can really save you in a pinch and this is no exception for Auto-Ordnance firearms. The Thompson 1928 50-round drum magazine is arguably the most iconic firearm magazine ever designed and completes the look and feel of your Thompson rifle. The Thompson Drum Magazine .45 ACP 50-Rounds has durable steel construction, the classic blue finish, and includes the "3rd hand" installation device. This magazine is compatible with most original full-auto Thompsons and modern 1927 A-1, 1928, and 1928 A-1 Thompsons. If you are more interested in a simple stick magazine, the Auto-Ordnance 1927 .45 ACP 30- Round Magazine is a great addition to your 1927 handgun. With a blue finish, this stick magazine could really help reduce reloading time. Are you more interested in a magazine for your M-1 Carbine? You may want to look into the M1 Carbine 30 Carbine 15-Round Magazine. This magazine is a great addition for your rifle and can come in black or the classic Thompson blue. Choose your favorite magazines for the lowest price at GrabAGun!